World
Bayern-Barça Champions League
Davies brought down Dembélé inside the area at the edge of the half
The Canadian threw the Frenchman without coming into contact with the ball
Very intense first half between Bayern and Barça at the Allianz. Both teams have shown a lot of offensive potential, especially the Barça team, which put Neuer in a lot of trouble.
Lewandowski and Pedri could have opened the scoring with two great shots, but the German goalkeeper denied them. As well as the collegiate, who he did not signal the maximum penalty in a takedown inside the Davies area to Dembélé on the brink of rest.
The Frenchman was heading towards the German's goal when the Canadian he knocked it to the ground with a trip without coming into contact with the ball.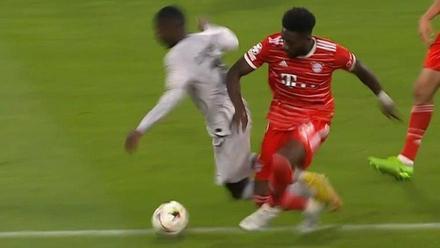 Penalty of course nor was it reviewed in the VAR. Makkelie let the play continue until the end of it, when he made the gesture with his arms denying the infraction of the Bayern footballer.
The Article Is In Spanish🡽